Reading: Creating A Habit
1. Establish A Daily Routine – Make It a Vital Part of Daily Life
Reading, in my opinion deserves a specific time set aside every day. In addition, add your voice to their books and they will grow to love it. Besides creating memories, this will also improve their comprehension levels and decoding of words or vocabulary. Irrespective of their ages, it will eventually create within them an independent desire to grow in their abilities.
Here are a couple of ways that we can incorporate this habit into practice in our daily routines?
(a) Read as you work – I have my children say simple words from the cereal box, or if a word flashes on the TV that Ithink that they should know, I ask them to pronounce it. I vocalize everyday things to them, for example; the directions from the map, ingredients on a cookie box, etc.
(b) Create a Journal - This is great, not just to create memories for your children, but also because it helps with both their reading and writing skills. Although this tends to work better for older children (7 or above), younger children can create a newspaper article with pictures. It's a fun way to write down their experiences and sound out the words at the same time.
Think of ways that may work for your family setting. Now take the time to see how you can implement them. It will pay off.


2. Encourage Them To Build a Library
This is something that my sister did as a child. While I spent my money on candy, she would spend it on books! However the books that she purchased became mine when she grew out of them and we had a library. It created a great sense of accomplishment when we had a shelf full of books, then two, then three, etc. I would enjoy having to make a choice when it came to bed time, as well as the confidence I gained when I was able to say "I've read that".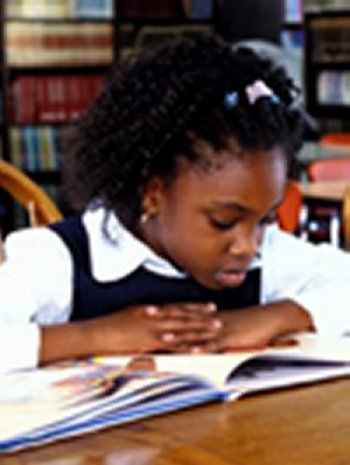 Find Some Great Reading Strategies
3. Create a Habit of Going to The Library
Once they have conquered all their own books, the next step is to encourage them to attempt other books that will be available to them through the local library. Summer motivational programs with prizes are a great encouragement.


4. Expose Them To Different Types of Formats
Books on CD, comic books, on-line stories, books on Ipods or MP3 players, etc. Whatever it takes to create interest and motivate them to get their nose in a book.


5. Track Your Child's Progress
Know where your child is currently, where they ought to be and where you would like them to be. State guidelines for your child's grade should be available on the state education department's website and should be able to outline the basic reading skills required for their grade. And who says that they should be limited to those anyway? Once a love of this skill is developed in them, they may easily exceed those guidelines!
So let's get busy creating the habit of a lifetime!


What kind of Books Would Interest Your Child?

Teaching Reading to Your Students? Great Warm Up Activities!